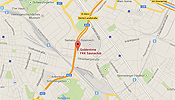 Goldentime Vienna:
Karl-Gunsam-Gasse 1
1110 Vienna - Austria
Fon: +43 1 969 90 90
info@goldentime.at
Opening hours:
daily 11:00 am - 04:00 am
Liebe Gäste, 
wir haben ab sofort wieder normal von 11-04 Uhr geöffnet!!
Dear guests, we have regular opening times again from 11am to 4am!!
Welcome to the
Goldentime Sauna Club Vienna
You can make your visits in Goldentime Vienna more cost-effective! If you buy 7 tickets (7-block) you pay for a ticket instead of 90€ only...
Join us every Monday to enjoy the perfect start of a new, exciting week with charming girls who enchant your senses in irresistible lingerie and...