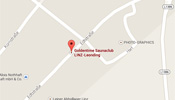 Goldentime Leonding:
Edtstraße 7
4060 Leonding - Austria
Fon: +43 732 67 35 91
linz@goldentime.at
Opening hours:
daily 11:00 am - 04:00 am
Liebe Gäste, 
wir haben ab sofort wieder normal von 11-04 Uhr geöffnet!!
Dear guests, we have regular opening times again from 11am to 4am!!
Welcome to Goldentime
Sauna Club Linz-Leonding
Join us every Monday to enjoy the perfect start of a new, exciting week with charming girls who enchant your senses in irresistible lingerie and...