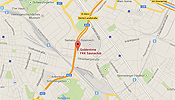 Goldentime Vienna:
Karl-Gunsam-Gasse 1
1110 Vienna - Austria
Fon: +43 1 969 90 90
info@goldentime.at
Opening hours:
daily 11:00 am - 04:00 am
Liebe Gäste, 
wir haben ab sofort wieder normal von 11-04 Uhr geöffnet!!
Dear guests, we have regular opening times again from 11am to 4am!!
At your birthday you get for FREE 1 hour in the CHAMPAGNE LOUNGE including 1 bottle of champagne (value 120€)....
You can make your visits in Goldentime Vienna more cost-effective! If you buy 7 tickets (7-block) you pay for a ticket instead of 90€ only...