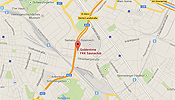 Goldentime Vienna:
Karl-Gunsam-Gasse 1
1110 Vienna - Austria
Fon: +43 1 969 90 90
info@goldentime.at
Opening hours:
daily 11:00 am - 04:00 am
Dear guests, for logistical reasons this part of the website has not been translated into your language. Thank you for your understanding!
You can make your visits in Goldentime Vienna more cost-effective! If you buy 7 tickets (7-block) you pay for a ticket instead of 90€ only...
At your birthday you get for FREE 1 hour in the CHAMPAGNE LOUNGE including 1 bottle of champagne (value 120€)....